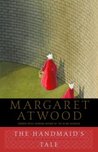 The Handmaid's Tale by Margaret Atwood
My rating: 4 of 5 stars
After reading 'The Handmaid's Tale', I can see why this dystopian classic has made such an impression on so many. This is a book that definitely hangs with you, haunting your thoughts, long after you finish the book. It is thought-provoking and terrifying.
The story centers on the heroine, Offred, who is a "handmaiden" in this futuristic world created by Ms. Atwood. As a handmaiden, Offred's sole purpose is to produce a baby for the Commander and his wife, Serena Joy. Once she has served her purpose, she will be reassigned to another high-ranking man for the same purpose. This pattern will repeat over and over, until she is no longer able to bear children. What happens then, nobody really wants to talk about. Worse yet, if she fails to produce a child then she will face a fate reserved for the lowliest of women.
This is the world that Offred and others are left with after a brutal civil war stamped out the rights that citizens like Offred had taken for granted. The overthrow of the democratic government was gradual…until it wasn't. The changes that took place were very insidious.
One moment, people like Offred were consumed with trivial problems, like where they were going to go out for dinner that night. The next thing they knew, a civil war was raging. Soon, their every movement was monitored closely. Of course, this was for their own "protection" and "safety". Then, women weren't allowed to hold jobs or manage their own money. (After all, the poor little dears shouldn't have to bear that burden. A man should handle those sorts of things.) Next, anyone that dared to oppose the new regime was eliminated. Before long, citizens like Offred cannot even recognize their new reality. They are stuck under the rule of an incredibly oppressive, misogynistic regime.
Worst of all, their complacency paved the way for this gradual overthrow. Little by little, they handed over their rights with little resistance. They refused to see the writing on the wall and wanted to believe the lies that they were spoon-fed. Once they wised up, it was too late. Now, they are a people broken. Women, especially, face a grim fate.
This book is remarkable! Although it can be rather slow-moving at times, the message was powerful. This story serves as a cautionary tale and a necessary reminder. Civil rights are hard won and easily lost.
It is easy to draw comparisons to many of this books' events and the events of the past and present. Ms. Atwood highlights many important issues and offers a great deal of social commentary. There were so many important topics that she touched upon that I can't even begin to list them.
This book is considered to be a classic for a reason. It is a book that needs to be read and taken in by readers. While it isn't necessarily the most entertaining read, it is certainly one of the most enlightening and thought-provoking. I highly recommend that everyone read this book, at least once.