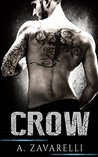 Crow by A. Zavarelli
My rating: 4 of 5 stars
Recently, this series has been blowing up my feed. After seeing several glowing reviews from friends, I decided to see what all the fuss was about. I expected to be disappointed, but was I ever wrong! This book was terrific!
Mackenzie decides to infiltrate the Irish Mafia in an attempt to find her best friend, Talia. The two grew up on the streets together, and they're the closest thing to family that either one of them has. When Talia goes missing after she begins working for the mob, Mackenzie knows that her disappearance is connected and she intends to bring justice to those responsible.
It doesn't take any time for Mack to catch the eye of Lachlan Crow, a fast-rising leader among the Irish ranks. As she works to infiltrate his organization, he's trying to figure out what her secrets are. He wants her, but he doesn't trust her.
As things heated up, I wasn't sure whether these two were going to be the death of each other. I love a little tension and suspense in a story and this one did not fail to deliver. Right up to the end, I was trying to piece everything together.
As far as this couple goes, I couldn't have been happier! Lachlan was a strong, dangerous and dominant type. He was definitely a sexy character. Mack was also an incredibly strong character. I admired her as a heroine. She may have chosen to submit to Lachlan, but it wasn't because she was weak. Together, they were scorching hot!
Several supporting characters were introduced in this story that are bound to have their own books later in the series. The author has done a wonderful job of building intrigue surrounding these characters, so that you want to jump right into their stories as well. I certainly plan to.
Overall, this was a fantastic choice. I immensely enjoyed this book! Even though it is part of a series, this book does offer closure and can easily be read as a standalone. It won't leave you hanging.