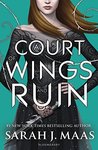 A Court of Wings and Ruin by Sarah J. Maas
My rating: 4 of 5 stars
I'm not sure that I can say much about this book that hasn't been said already, so I'll keep this short and sweet. 'A Court of Wings and Ruin' was a great finale to the series. I have loved watching Feyre evolve over the course of this series and this book did a wonderful job of bringing everything full circle. If you're a fan of the series, then this book is a must-read.
That being said, I honestly didn't think that this book was as spectacular as the second book. This is probably a reflection of my personal tastes more than anything. I am primarily a romance reader. I like a little fantasy and adventure, but I need a healthy dose of romance thrown in.
While this third book definitely continued the love story, it wasn't as smutty as I would've liked. There, I said it. I wanted more steamy, hot times with Feyre and Rhysand. The second book definitely provided more to work with in that regard, but I understand that this book is not marketed for adult romance readers, like me. Again, it is just a matter of personal preferences.
On the other hand, this book was action-packed. From start to finish, there was always something adventurous and deadly brewing. There was never a dull moment. It definitely kept me on the edge of my seat right to the very end.
I won't say much about the storyline, because I don't want to spoil it for anyone. There are a lot of changes that occur during this book. Some are heartbreaking, others will make you melt. I was left with a feeling of contentment, resolute that everything was "right" in this make believe world that I grew to love so much.
While this series has drawn to a close, I am left wondering if Ms. Maas has any plans to create a spin-off series. There were so many characters introduced in this series that have grown dear to me. I feel like their stories want to be told and she certainly planted the seeds to do this. I guess I'll have to wait and see.
Overall, this was a fantastic book and series. I would definitely recommend this series to others. 'A Court of Mist and Fury' is still my favorite by far, but this one was great in and of it's own right also.