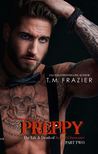 Preppy: The Life and Death of Samuel Clearwater, Part Two by T.M. Frazier
My rating: 4 of 5 stars
Preppy is back, but he isn't the same Preppy that we've grown to love over the course of the 'King' series. His time in captivity has really done a number on him. After everything he endured, it is nothing short of a miracle that he managed to survive…and surviving is exactly what he's doing, no more.
When Dre seeks closure, she never imagined that she'd find Preppy alive. So much for saying "goodbye" and making her peace. She is immediately taken back to their time together, even if she'd rather forget the heartache that he left her with.
As Preppy begins to heal physically, he is plagued by the psychological after-effects of the torture. While all of his closest friends want him to face his issues, he wants nothing more than to escape from the pain. He loses himself in drugs and alcohol, racing to the bottom.
The only time that Preppy is able to find any peace is when he is with Dre. She has a calming affect on him. Despite the pain he's caused her, she still can't seem to give up on him. She does her best to keep him at arms-length, but as always, he manages to creep into her heart.
At times, I did find myself scratching my head over details related to the timeline of some events. It just didn't seem to add up for me, but I could have been mis-reading something. At one point, Preppy's captivity is said to have been for a few months. Yet at other points in the story, it was implied that he didn't know about the kids that Doe and King had. He was also clueless to the fact that Bear had entered into a serious relationship and Thia was now "huge" in her pregnancy, which wouldn't happen until the third trimester. So, I was a little confused as to how he could have missed so much if he'd only been away for "months". Again, maybe I mis-read something along the way. I'll have to go back and re-read this at some point to clarify.
If you're a fan of this series, like I am, expect to enjoy this book. I have been a big fan of Preppy from the start, so it was hard to meet this broken version of the usually boisterous character that I love so much. However, things are looking up for Preppy.
That being said, I continue to be perplexed by the number of typos and grammatical errors that make it into the published versions of this author's works. I'm not sure if there is a big rush to meet deadlines, or what else might be contributing. However, the editing needs some work. Simple mistakes like using the word "your" when the word should be "you're" or typos like "phon" in place of "phone" are sprinkled throughout the book. It was distracting at times and does take away from the story.
Given that the story itself is so fantastic, which takes a lot of talent on the part of the author, it is a shame to see basic editing oversights and technicalities mess with it. I'm no grammar expert myself, but there should be a few grammar experts on the team of this best-selling author, in my opinion. Her work is incredible and I hate to see it not live up to it's potential because of such elementary mistakes.
Even with the editing oversights, this was a highly enjoyable book. It does end with another cliffhanger, so expect to be waiting anxiously for part 3 of Preppy's story. I will be sure to buy it as soon as it is released.